Reviews

Pasadena Weekly
Cover Story, November 11, 1999
"To look at his paintings, one can see his art reflects the influence on Impressionism with a bit of Mark Chagal and the look of stained glass throw in."
"His style is achieved though the use of bright primary oil paints manipulated with a palette knife to form smudges ad soft peaks that magically flow together to form recognizable subjects."
"Native landscapes and the holiday festivities of his country men are favorite subjects, and it's not usual to see a Shmavonian paintings with girls in colorful ethnic costumes dancing."
"Shamvonian likes the durable nature of oils and works on many pieces simultaneously. He hopes his palette knife technique will become a recognizable style. But it is the Impressionist painters who have capered his imagination."
"Shmavonian may be on his way to following in Sarian's footsteps."
By Judy Seckler

Glendale News-Press
"Angels To Keep Watch" April 10, 2000
"Shamvon Shmavonian stands proudly near his painting after it was unveiled during the "Art in the Afternoon," an event that benefits the Glendale Memorial Health Foundation. Shmavonian was commissioned to do the piece last fall by Steve Fellows, former chief offices of Glendale Memorial Hospital and Health Center."
"The work will be hanged just outside the Critical Care Unit. "
"We wanted something inspirational that would bring comfort and peacefulness to people in a difficult situation."
"My heart leapt and tears came to my eyes when I first saw it."
By Joyce Rudolph




Noted Armenian Artist Donates Work to Glendale Memorial
(Community Gathers To Thank Artist For Giving "Hope " To Critical Care Patients)
Internationally renowned Armenian artist Shmavori Shmavonian (left) presents Arnold Schaffer, president of Glendale Memorial Hospital and Health Center, with an original painting that will be displayed in the hospital's critical unit. Shmavonian donated the spectacular 8' x 4' painting entitled "Hope" in gratitude for the hospital's continued efforts to educate and train key Armenian hospital administrators and physicians. Officials from Glendale Memorial have been instrumental in working with the health minister of Armenia as well as other governmental and healthcare representatives to improve that nation's healthcare system.
According to Schaffer, Glendale Memorial Hospital and Health Center has a long history of supporting the Armenian community through culturally sensitive outreach and medical prevention programs. (In fact, Glendale boasts the second largest population of Armenians outside the Republic of Armenia).
"On behalf of the entire staff and volunteers of Glendale Memorial, we're grateful to Mr. Shmavonian for his generous gift of "Hope" and for his undying dedication to the Armenian community," remarked Schaffer.
Shmavonian's work will be exhibited at The Frame Shop (11923 Ventura Blvd, Studio City) through July 15 and 40 percent of the sale of all of his works be donated to the hospital.

Armenian Artist Donates Work to Providence Holy Cross Medical Center
We highly appreciate the support and investments that your organisation implemented for Armenia. Please, be aware that we have received the cargo and on behalf of Pyunik Human Resources Development Foundation, I would like to express our gratitude towards you and your organization, as well as to Mr.Shmavon Shmavonyan who contributed so much efforts to this idea.
Vatican. January 30, 2013. Ambassador of Armenia Rouben Karapetian presents Shmavon Shmavonyan's painting to Pope Benedict XVI." 

Personal exhibition in Istanbul under the title of "The Joy of Nature" 
October 1, 2013
Unveil a magnificent painting under the title of "Bridge" at Providence Tarzana Hospital   January 22, 2015
Unveil a magnificent painting under the title of "Bridge" at Providence Little Company of Mary Medical Center in Torrance   February 1, 2016
City of Pasadena Dedication Event   February 10, 2016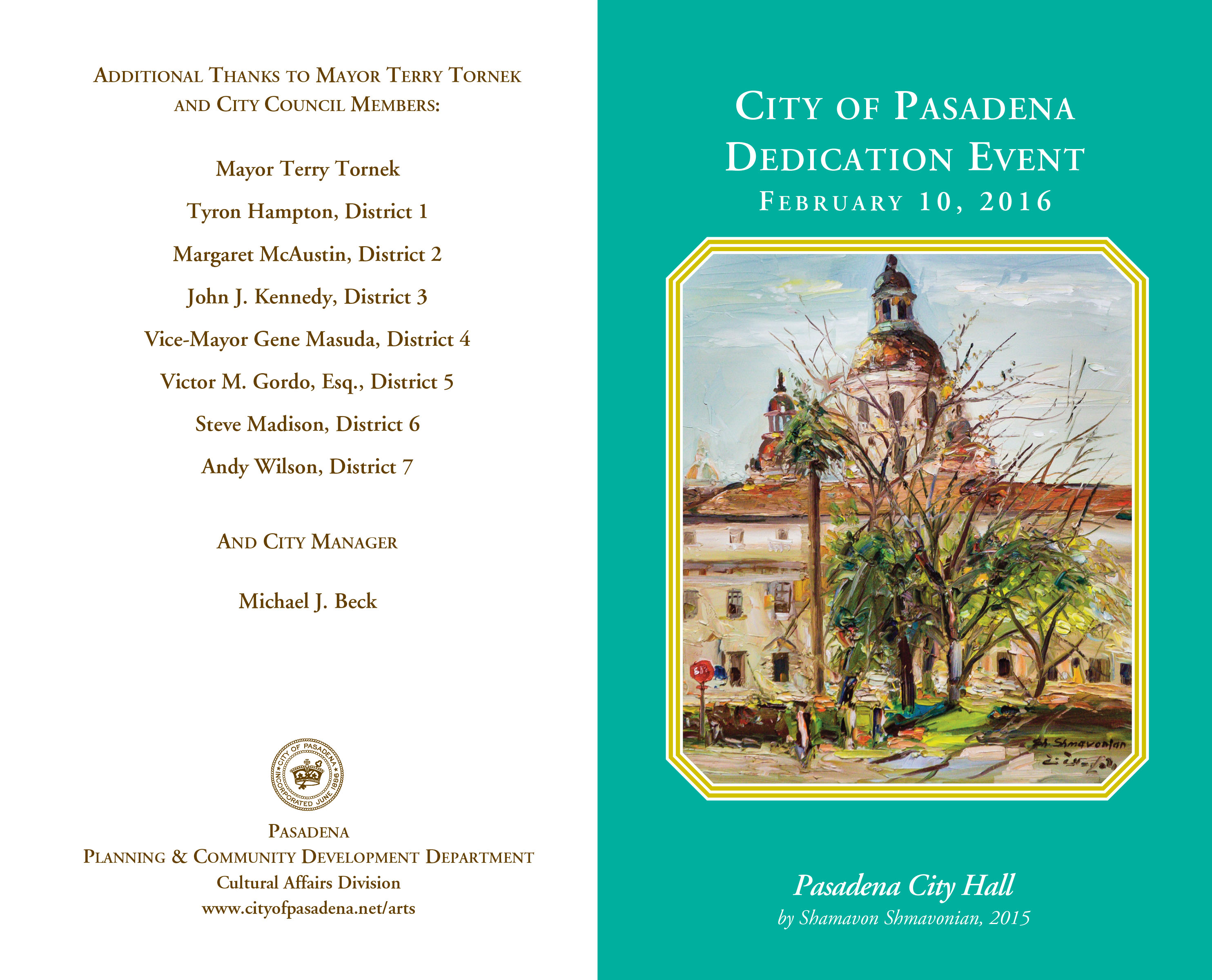 An Extraordinary 3-Day Art Exhibtition at AGBU, Pasadena   March 10-12, 2017